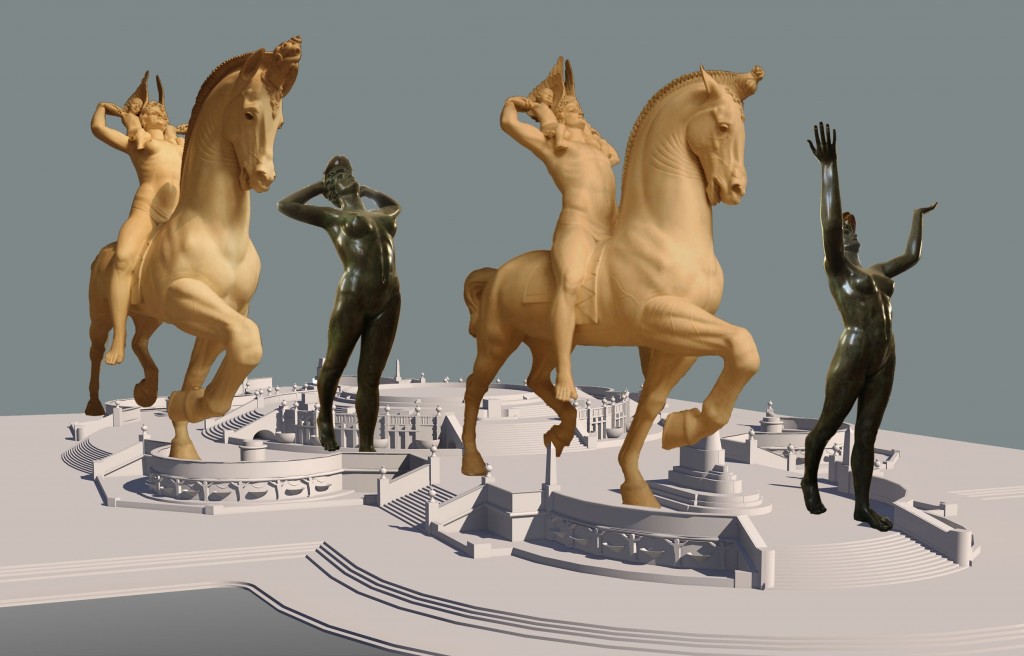 What do the two Nudes and The Prayer represent?
Two equestrian statues on high pedestal were symmetrically placed in the lower terrace of the Fountain of Life. These statues depict a male nude and a female nude, each of them put on a horse at step bearing upon their shoulders a baby (F-G).
Two more female nudes were put at the bottom of the equestrian statues, one with her arms raised to the sky in the act of calling upon God, and the other with her hands behind her ears listening to the divine message (E-G).
What is the meaning of the whole sculptural group?
The set of sculptures aimed to represent the ideals of rationality and progress that are supposed to characterise human thought.
Horses represent the lower forces of nature controlled by man and his values based on Faith and Reason.
The child means the future generation that embodies values of innocence and courage through which looking at the world with enthusiasm and confidence.
The female nude with arms raised to heaven is the invocation of God, the other female nude with her hands near the ears means the waiting for a divine message.
When were these works made?
Andersen completed these works between 1905 and 1907.