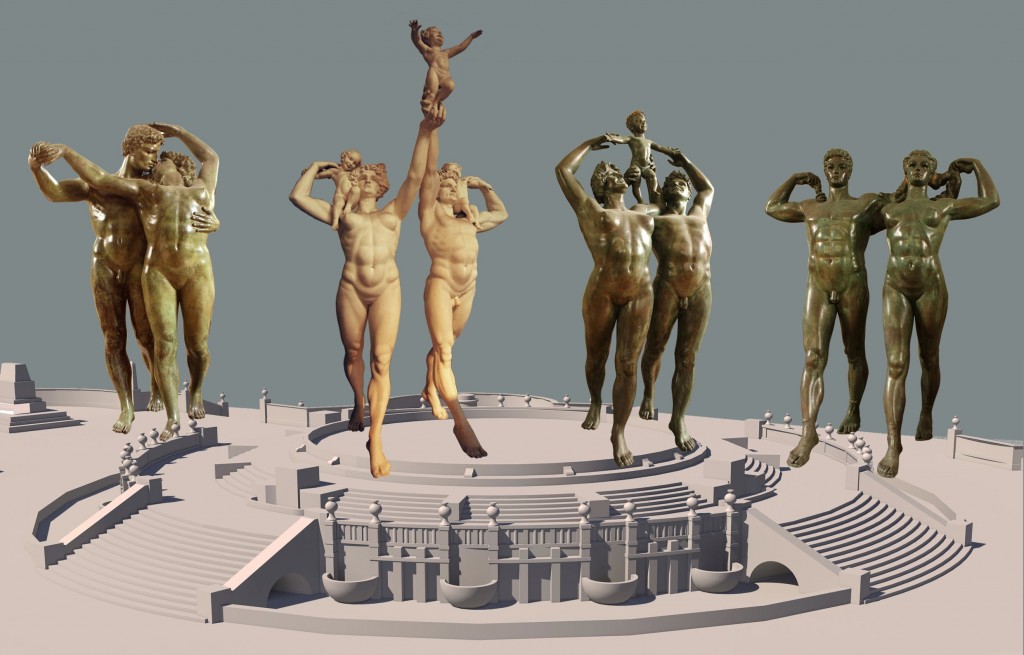 What project do these works belong to?
These works were part of the World Centre of Communication and were supposed to be located on the upper terrace of the Fountain of Life.
The Joy of Living (K) and The Step (L) were exposed to the public in 1911, on the occasion of the International Exposition of Rome at the Palace of Fine Arts in Valle Giulia, specifically built by the architect Cesare Bazzani.
What do they represent?
The bronze sculptures represent a man and a woman walking side by side and supporting with their hands on each other shoulder. In particular, in The Joy of Living (K) and The Progress of Humanity (J) the man and the woman sustain on their shoulders a child arms outstretched, a symbol of the new generation that looks to the future with confidence and expresses the triumph of progress and civilization.
Love (I) depicts a couple holding in a tender embrace.
What did these works mean?
The sculptural groups symbolise themes that were close to the artist: love, maternity, physical strength, intelligence, friendship, parents affection for kids, joy of living, and confidence in progress.
The idea of the artist was to represent progress and art as suitable tools to release humanity from its lower instincts and to elevate it to freedom, in harmony with the divine.
When were these works made?
Andersen completed these works between 1900 and 1918.