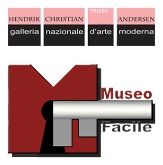 Museo Facile (Easy Museum) is an educational-experimental project of cultural communication and accessibility.
In 2012 the Ministero dei Beni e delle Attività Culturali e del Turismo and the Università degli Studi di Cassino e del Lazio Meridionale started collaborating t the Soprintendenza alla Galleria nazionale d'arte moderna e contemporanea at the Hendrik Christian Andersen Museum.
The project is structured a san internship involving University of Cassino students coming from faculties of Humanities, Cultural Heritage, and Science of Communication.
Museo Facile aims to make the learning experience at the museum as enjoyable and effective as possible through a dynamic and clear communication system.
The project is primarily addressed to adults affected by functional illiteracy, visual and hearing impairment, communities of immigrants, namely all those who arise specific difficulties in active participation to the national cultural heritage experience.
For this reason, the working plan aims to fulfil different audience needs equipping innovative educational tools, which are going to make the museum a venue of social integration and intercultural meeting.
A venue open to and for all: an Easy Museum.
CREDITS OF PROJECT 
Scientific coordination and organization
Ivana Bruno
Università degli Studi di Cassino e del Lazio Meridionale
Departiment of  Humanities
Marina Di Berardo
Ministero dei Beni e delle Attività Culturali e del Turismo
Direzione Generale per la Valorizzazione del Patrimonio Culturale
Centro per i Servizi Educativi del Museo e del Territorio
Matilde Amaturo
Ministero dei Beni e delle Attività Culturali e del Turismo
Soprintendenza alla Galleria nazionale d'arte moderna e contemporanea
Museo Hendrik Christian Andersen di Roma
Conception
Ivana Bruno
Università degli Studi di Cassino e del Lazio Meridionale
Patrizia De Socio
Ministero dell'Istruzione, dell'Università e della Ricerca
Scientific commitee
Matilde Amaturo
Ministero dei Beni e delle Attività Culturali e del Turismo
Ivana Bruno
Università degli Studi di Cassino e del Lazio Meridionale
Patrizia De Socio
Ministero dell'Istruzione, dell'Università e della Ricerca
Marina Di Berardo
Ministero dei Beni e delle Attività Culturali e del Turismo
Mario Andrea Ettorre
Ministero dei Beni e delle Attività Culturali e del Turismo
Vitaliano Gemelli
Unione Nazionale Lotta contro l'Analfabetismo
Gianluca Lauta
Università degli Studi di Cassino e del Lazio Meridionale
Maria Vittoria Marini Clarelli
Soprintendenza alla Galleria nazionale d'arte moderna e contemporanea
Fiorenza Taricone
Università degli Studi di Cassino e del Lazio Meridionale
Apprentices
Texts simplification 
supervisor Gianluca Lauta, Università degli Studi di Cassino e del Lazio Meridionale
Tamara Baris, Doriana Cardile, Federico Fiorini, Elena Gradini, Miriam Miele, Laura Saturnino, Marta Toti
Communication tools
supervisor  Ivana Bruno, Università degli Studi di Cassino e del Lazio Meridionale
Alessandra Chiarlitti, Maria Cristina Pelloni, Martina Sacco, Tania Valente, Luca Verrecchia
Cultural heritage education
supervisor  Marina Di Berardo, Ministero dei Beni e delle Attività Culturali e del Turismo
Alessio Fracassi, Maria Rosaria Giocondo, Elisa Marrocco, Tommaso Rea
Interculture
supervisor Vinicio Ongini, Ministero dell'Istruzione, dell'Università e della Ricerca
Francesca Caparco, Milena Integlia, Sara Leone
Promotion
supervisor  Mario Andrea Ettorre, Ministero dei Beni e delle Attività Culturali e del Turismo
Roberta Batoli, Francesco Tersigni
Web communication
supervisor Fabiana Verolini, Soprintendenza alla Galleria nazionale d'arte moderna e contemporanea
Alessandra Chiarlitti, Stefania Vitti, Antonio Zecca
Project supervisor assistant
Alessandra Chiarlitti
Educational tools design, 3D model and graphic
Lorenzo Mattone, Università degli Studi di Cassino e del Lazio Meridionale
Aids to museum heritage accessibility for visual impaired
Fabio Costa, Innocenzo Fenici, Vincenzo La Francesca, Luigi Ruperto, Lucio Zito
Federazione Nazionale delle Istituzioni Pro Cechi ONLUS- Roma
Aids to museum heritage accessibility for hearing impaired
Luca Bianchi, Luca Des Dorides, Francesca Di Meo, Francesca Pallotta
Istituto Statale Sordi di Roma, Ministero dell'Istruzione, dell'Università e della Ricerca
Translation
Valeria Pica, Università degli Studi di Cassino e del Lazio Meridionale
Many special thanks to
Maurizio Abbate, Luisa Accardo, Giuseppe Ariano, Elisabetta Borgia, Laura De Nicola, Valentina Filamingo,  Alessandro Maria Liguori, Giulia Orofino, Chiara Stefani, Veraldo Urbinati, Pietro Vecchierelli
www.laboratori.unicas.it/museofacile
www.sed.beniculturali.it/index.php?it/335/museo-facile